Nate Halahan, 2023 Nora Cup Trail Rider of the Year, September 9, 2023
Photo by: Murphy Lee Moschetta
---
Big congrats to Nate Halahan for getting the 2023 award for Trail Rider of the Year. Well done, Nate! Keeping that Pittsburgh trail lineage going! Can't wait to see what the future holds for you and it's been great watching you progress so much every time I visit Pittsburgh. I've collected a few photos over the years and special thanks to Murphy Lee Moschetta for contributing photos as well. We asked friends to write a few words about Nathan winning the Nora cup and are very thankful for all the kind words.
---
Let me start by saying the same thing you're all thinking: The Halahans, the whole family, are incredible people. They're the spirit of everything I love about BMX, especially in our city. They're hardworking, kind, humble, and most welcoming. You deserve this and so much more. Thank you for everything you all do for Bicycle Motocross and the people who are a part of it.
Nathan Halahan 2013: The Wheel Mill wasn't quite open to the public yet, but many locals would gather to help out with construction and eventually catch a few laps. One evening I found myself riding the Woods Jump Room with two young kids named Nathan and Lukas. I had not been riding much at that time and my confidence wasn't exactly at its highest. The boys had set up a lip that hipped into the last landing of the line that made me pretty nervous. They were starting from the second jump, dropping into the lip, taking a few pedals across the room, and jumping this hip that they'd made. At this point I'm about 25 and they're both in single digits. I'm scared and they're definitely not. I just watched them for a minute. When they said "you should jump this!" I voiced my nervousness. Young Nathan, atop his purple 16" Diamondback wearing a full face helmet bigger than his own body, says with a tiny voice something like, "There's nothing to be scared of. You can do this!"
Always encouraging. Always shredding.
– Murphy Lee Moschetta
---
Young Nate Halahan, October 14, 2015
Photo by: Murphy Lee Moschetta
It feels amazing that his peers see the hard work ethic he has. That they see the rider he has become .. but more importantly I feel amazing when they say I raised some great kids! 
Raising good humans means more  to me than any certificate trophy someone can get and having the whole package is epic.. we are blessed ! And Dirt Rules.
-Jen Halahan (Mom)
Nathan raced bmx. They told him not to jump. But he did. Nathan rode all the parks, kids contests, and did bmx shows. They told him to do back flips. And he did. Nobody told Nate to dig and ride in the woods. But he did.
When he was 7 yo years old stopped racing and riding in any way that did not make him feel good. He always preferred the woods. On his own terms.
Nate was always building jumps with his brother Lukas. Jumps in the yard to play with his flix tricks. Jumps in the sand while on beach vacations. The jumps just kept growing. Eventually, he and Lukas would become part of the local Pittsburgh trail scene. Digging and riding at Josh Pekich's spot, The Potoczny house, Hazelwod, and ultimately our property 9 Acres. Along side Lukas they have spent eleven years in our woods transforming 9 Acres into the spot it is today. 
I'm proud of Nate for alot of things. But, I'm most proud of him for doing what makes him happy despite what others might be telling him to do. 
Trails rule!
-Mike Halahan (Dad)
---
Nate With A Tabletop at The Wheel Mill, December 29, 2015 and Nate's Bike Check, January 16, 2026
Photos by: Murphy Lee Moschetta
When I first met Nate about 11 years ago he was playing with a pile of dirt in the corner of The Wheel Mill while his dad and the Potoczny brothers and I were working on the design for the soon to be built Woods Jump Room. He definitely took playing with a pile of dirt to the next level since then, and I'm so stoked for him and his family that he has been recognized as Trail Rider of the Year!
-Harry Geyer (Owner of The Wheel Mill)
---
Rumble In Richmond With Crandall and The Doggo, June 26, 2021
Photo by: Murphy Lee Moschetta
Although Nathan is one of my favorite riders, and definitely earned and deserved every vote he got to win Number One Trail Rider of the year, part of me feels like the whole Halahan family won that award. And rightfully so. Each Halahan stands out individually, and I don't think they make an award for a dedicated, hard working decent family unit from western Pa. yet, but as a crew, the Halahans are award winning. It's their support that helps Nate shine as bright as he does.
Nate, in all his modesty and humility, is also one of the most unassumingly powerful and natural riders I've seen yet, with as much potential as anyone to follow his bicycle dreams all the way to the woods. Nate winning NORA cup feel pretty honest… CONGRATS!
-Steve Crandall
---
Nate At His Lovely Home Spot, 9 Acres, July 9, 2021
Photo by: Murphy Lee Moschetta
We are so happy to see Nate get the NORA Cup this year! He's young and inspiring the next generation. He knows how to hold a shovel and can quietly put on a show at any trail spot around the world. We loved seeing him shred New Zealand recently and we hear he's planning to head down under in the fall.  This is a big win for the Halahan family, but Nate can keep the trophy in his room. 😉
–Colin Mackay, Vans
---
Rake Rumble Weekend, June, 26, 2021
Photo by: Murphy Lee Moschetta
Hazelwood Polaroid, September, 26 2022
Photo by: David Leep
I thought the proper way to celebrate your nomination, Nate, was to head out for multiple pedals this past weekend.
So I wrapped my bright red, Halahan bandana around my neck and cruised the streets, anticipating the announcement on who would be chosen for NORA, Trail Rider of the Year…
Then, come Sunday afternoon, I got the text from your dad; A pic of that shinny silver, giant cup with "Nate Halahan" written on it.
The stoke level was at 1,000% on our end.
Thanks for years of support, Nate, and congrats on this huge monument to the efforts you've already put it, and to everything we know you'll continue to selflessly contribute.
To you, and to the whole Halahan family, for putting so much heart and soul into bmx…we can't thank you enough.
-Matt Coplon/Profile Racing
---
No Stranger To A Shovel At Hazelwood and 9 Acres, September, 6 2020
Photos by: David Leep
We are so amped for Nate, and the whole Halahan family truthfully, that Nathan was singled out by his peers to be celebrated as the No. 1 Trail Rider of the year. 
The trails subculture of BMX, more than any other segment of the sport, is unique in that it recognizes not just the caliber of the rider, but the commitment to the art… the build, the spot maintenance and community. Combine that with his unrelenting talent and style on the bike and it's easy to see why he won this year… Nathan possesses all of these qualities in spades (see what we did there). 
This is just the beginning for the Halahan Clan – they're gonna be your favorite rider's favorite riders for decades to come.
-Melissa Buckley – S&M Bikes
---
Hazelwood, September 7, 2020
Photos by: David Leep
"Nathan's love for BMX and life is truly remarkable; I wish everyone could experience the same joy while riding a bike. Watching him makes you want to go out and ride."
– Robert Granado / S1 Helmets Team Manager
So refreshing to see such a young effortless flow that gets it.
-Mike Aitken

---
Moon Bound At Hazelwood, September 5, 2020
Photo by: David Leep
Watching Nate Halahan winning Nora Cup Trail Rider of the Year is a full circle experience for me. Most of Pittsburgh watched the entire family grow up from the little dudes with full faces to full blown apes! The boys spent a good bit of  time at my family compound and it led to them building one of their own. Mark Potoczny, Josh Pekich and myself even went from potential property to property with Mike Halahan picking which dirt looked the best for a spot. Now they've created some of the best dirt jumps on the planet and rip the hell out of them. I'm very proud of what Nate and the whole family has created and become. I'm excited to see what's next!
-Mike Potoczny
Nate and the entire Halahan family have always done things the right way. Always willing to put in the work, kindness and raw bike skills all come to mind when thinking of Nate. It's so awesome to see Nate keeping the true bmx spirit alive and to get recognized in such a big way!
-Josh Pekich
---
360 At 9 Acres, September 23, 2022
Photo by: David Leep
 Pittsburgh has known this was coming for a long time and if you've ever been at the trails with Nate you probably have too! One of the best families in BMX. Very well deserved.
-Zack Shaffer
I have known not only Nate, but his whole family for a long time now. All of them are hard working and charge everything they do. Very well deserved. Stoked for you Nate!
-Corey Zell
The Halahan's are the trail riders of every year to me. The level of devotion, shred, smiling, and hyping up everyone else around them is unmatched. Im stoked to see Nate take it this year.
-Ever Peacock
About ten years ago I met Nate at the Wheel Mill after I was out of the BMX world for a good 12 years. He was a little kid, but he rode like some of the best trail riders that I knew in the 90s. As he grew older and bigger, his dialed style and bike control progressed to the max. His passion for riding bikes and building jumps brings the stoke level to new highs for riders of all ages and skill levels. He's a true lifestyle BMX trail rider and it was no surprise that he won the NORA Cup Trail Rider of the Year.
-Justin Cummings
---
Much Shred At Hazelwood And 9 Acres, September 24, 2022
Photos by: David Leep
Oh man, what is there to say about the kid that hasn't been said?! Nate is the truth, the whole Halla-Clan for that matter, all the way BMX. I have never in my life seen someone so sure of themselves on the bike, and much more, self aware of where he is and what his body is doing in relation to his bike and the terrain he is riding on. It's easy to say he's a natural, but we have to remember these kids have been doing this just as long as most of their peers that are 10-15 years older than them! Nate's dedication to riding bikes goes beyond being on the bike. He is a killer builder, understands what it takes to make a line work, and is confident enough to jump right in and work on sets in any location and the builders at those spots know it will work too. And after days in the woods and non-stop riding the kid isn't interested in partying with the dudes, he's all bmx man! It's been great watching him and the whole family develop into the riders they are and the support they have for each other is really unique. I couldn't be more proud! Congrats Nate, well deserved and anyone that has seen you ride knows it!
-Matty (Very Sick) Millington
I've known the Halahan's for a long time, but I think my earliest memory of Nate was at Woodward when I believe he was 6 years old, there as a guest because he was technically too young to be a camper. Him and Luke's riding would make people stop and stare in awe of what power such young riders had. Nate almost won the high jump from the foam pit roll in that week. To see him grow up and see the amount of work he's put into so many different spots all over the country, and his sheer ability on the bike, it comes as no surprise that he got the NORA cup this year. The Halahan family embodies what BMX is. All of them are my favorite riders, and favorite people. Thanks for stoking the fire in the woods for so many, and keeping the fire lit for the rest of us older guys. Congrats Nate Dawg!! Well deserved.
-Cory Foust
---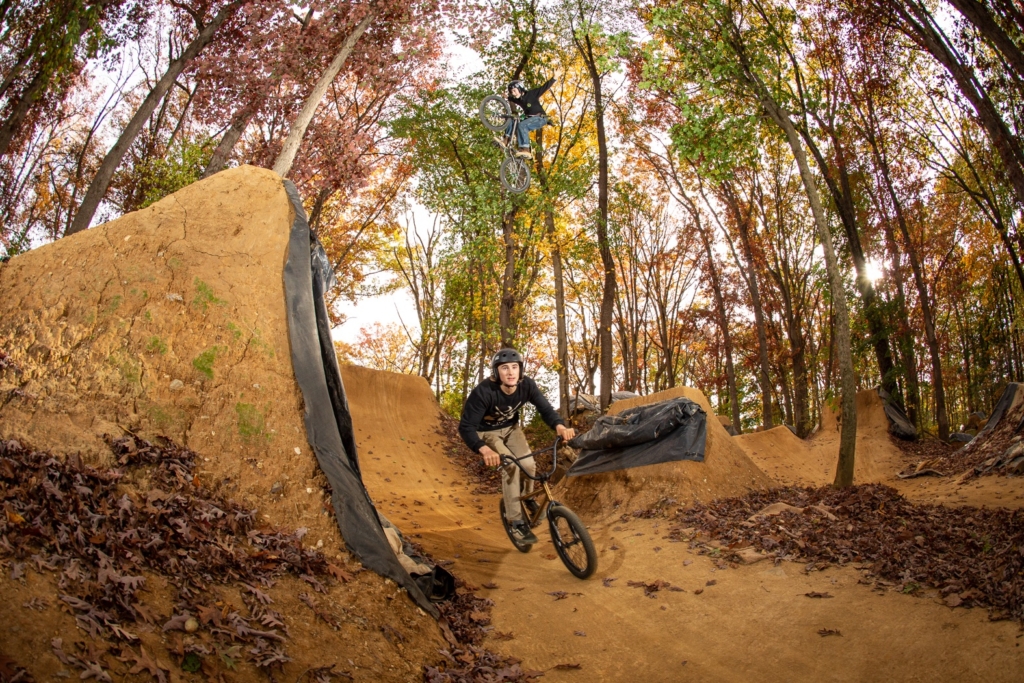 Halahan Brothers Catty Woods, September 24, 2022
Photos by: David Leep
In 2012 I was sponsored by a youth clothing company called Kid Dynamite. They asked if I could keep an eye out for kids who would be a good fit for the brand. The next weekend I went to Ray's MTB park in Cleveland and saw these two absolute shredders blasting the big line and knew they would be a good fit. Then I saw Dad come over and tell them to try something and his words were so kind and his stoke was so high. It was so different from the BMX Factory dads I'm used to in racing. Then I noticed they had these Wolf Brand shirts on and figured they were already sponsored because of how incredibly talented they were on a bike. I instantly texted Eric and said I think I found the type of rider you are looking for to represent the brand. He texted me back a photo and said those are the Halahans and they are on board to ride for us! I then had the courage to go talk to them and introduce myself. It was an instant friendship after that and I got to grow and love their family ever since.
We have been on so many great adventures together while sharing the same passion to get more kids on bikes. Less competitive environment and more fun. When we receive the email each year about voting for my favorite rider for Nora cup, I often mention how come the Halahans have not won this award yet. Nate, Lucas, Shane and Kaci are all such an incredible part of the trail community. Nate has such raw talent that he can bring his love for bikes to any trail spot and bring the stoke for others to observe. Never without a smile or an encouraging word for those around him Nate hands down is why I love being a part of the trail community. Nate's name may be on the trophy but the entire Halahan family should celebrate this win because together they are what BMX is all about.
-Carley Young
---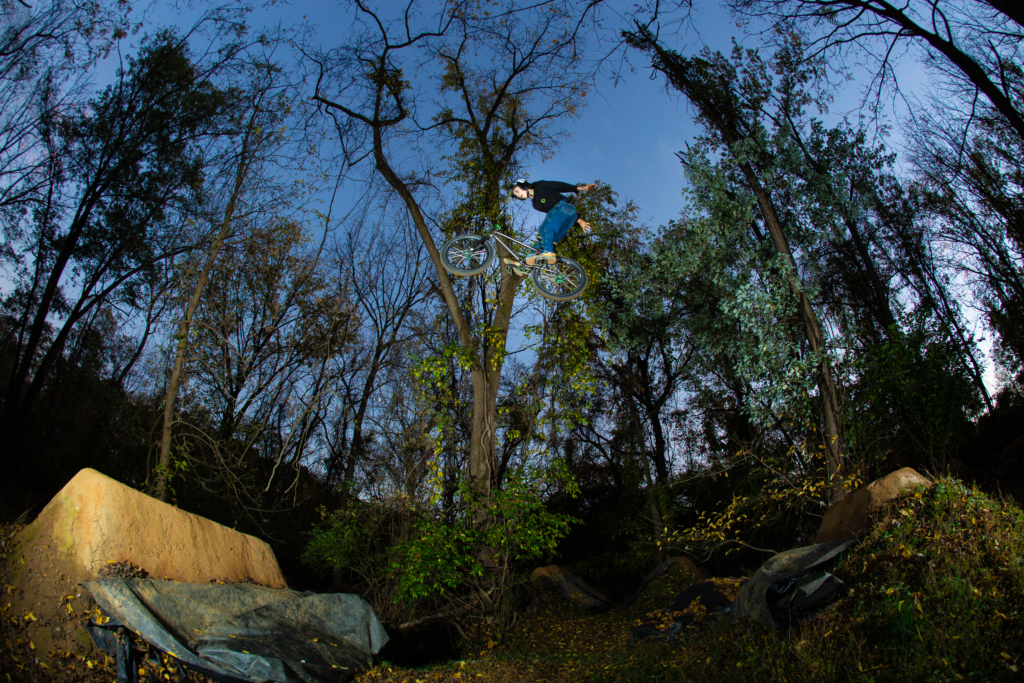 Sweet No-hander Posh Woods, September 24, 2022
Photos by: David Leep
When thinking of Nate, but more importantly the whole Halahan family the first word that come to mind is, SUPPORT. Supporting each other, supporting a scene, supporting their kids, supporting friends. Much can be accomplished when people work together, and the fun and fulfillment of being alive, creating and sharing is contagious. Nate is a perfect example of what can be accomplished with hard work, passion, talent, and support. The future of BMX with Nate and his family being apart of it is bright.
–Matt Aquizap

---

Meanhorse followed by Nate, 9 Acres, September 24, 2022
Photos by: David Leep
Nothing beats riding with the Halahans, Nate goes 110% every sesh, never holds back, but does it with eaze. Inspiring.
-Nathan Saunders
---
---
Pittsburgh, Home Of BMX Champions, Be Sure To Grab One Of These Shirts From Local Pittsburgh Biz, Ink Division, Here
Now Get Off The Internet And Go Ride Yer Bike!!!